I first heard the term "rubber tramp" in 2010. The guy who was my boyfriend at the time and I were talking to a young woman traveler. We told her we lived in our van and traveled around.
Oh, you're rubber tramps, she said enthusiastically.
I was new to the lingo of traveling kids, so I asked my boyfriend later what she meant. He said a rubber tramps was a particular kind of traveler who lived in a vehicle. The rubber in question was that on the vehicle's tires. As for the tramp part, well, he didn't have to explain that.
According to an answer given by Belarafon on enotes, a homework help website, in regards to the book Into the Wild, a rubber tramp is something of the opposite of a leather tramp.
A rubber tramp has a car or other wheeled vehicle, and travels on the rubber tires. A leather tramp has no vehicle, and travels on foot, shoes often being made of leather. The distinction comes from both ease of travel — a rubber tramp is more able to decide destination than one who relies on hitchhiking — and and an unofficial status: rubber tramps are sometimes seen as "less valid" than leather tramps because their vehicle is viewed as a luxury item.
Of course, I've never in my whole life heard of anyone referred to as a "leather tramp." Nobody calls them that, The Man exclaimed when I shared this definition with him. You'd just call them a bum!
According to the Cyber Hobo website, people who consider themselves tramps might not like The Man referring to them as bums. The Hobo Terms page says a tramp is "[a] migratory non-worker" while a bum is
[a] non-migratory non-worker; [a] worthless or dissolute loafer who would rather beg than work for goods or services; [l]owest in the "hobo hierarchy.
The Cyber Hobo also weighs in on the definition of "rubber tramp."
Rubber tramp – A tramp who owns a car, usually rusted out and undependable. They spend a lot of energy begging for gas money, but also provide transportation to other cities to bums, hobos and tramps for a fee. In a sense, they become a nationwide "taxi" service for transients.
I'm not sure where this definition originated (Cyber Hobo gives no sources), but I don't know anything about rubber tramps being any kind of "nationwide 'taxi' service." Personally, I have never charged a bum, hobo, tramp, traveler, hitchhiker, or dirty kid for a ride. I have accepted gas money from riders in my van, but I've never expected or demanded a fee from anyone I've let ride with me.
The Man says that in his experience, while rubber tramps may not charge folks a fee for a ride, there is an expectation of riders contributing to the common good. Each rider is expected to pitch in by flying a sign or panhandling for money and food or gas jugging and everyone sharing the fruits of the labor.
Did you know there is a Nomad Wiki which gives "info and tips for nomads about shoestring budget traveling"? I didn't either until I started working on this post. The Nomad Wiki glossary gives the same definition of a rubber tramp as Belerafon did on enotes: car or other wheeled vehicle, rubber tires, possibly less valid because vehicle is seen as a luxury.
Of course, we have to check in with Urban Dictionary to see how kids these days define "rubber tramp." Three definitions are shared.
[Top definition by RYM~Taistealaí with 154 thumbs up votes and 32 thumbs down votes] A person who travels and lives out of their vehicle (normally an RV, van, bus, etc.).  They stop and stay wherever they choose for however long they want, but eventually, so as long as there's a way to put gas in their tank, move on.

[Second most popular definition by Starwatcher with 21 thumbs up votes and 153 thumbs down votes]  A person that lives in, and creeps around in a vehicle that looks like it's barely held together with rubber bands, chewing gum, and chicken wire. They're often seen parked in the back of supermarket parking lots, or hanging around public parks, alleys, shelters, welfare offices or liquor stores.

Most of the time, the person also looks as completely worn out as the vehicle does.

[Least popular definition by Follow your wanderlust with only 6 thumbs up votes but 0 thumbs down votes] A person that lives full time in their RV or Van and works and lives on the road to explore and follow their wanderlust.
I couldn't find any information as to when the term "rubber tramp" was first used either verbally or in print. I know somebody keeps track of that sort of thing, but I sure couldn't find anything online. I suppose I should put a reference librarian or an an etymologist on the case.
I also want to point out that not all people who travel in vehicles or live on the road appreciate being referred to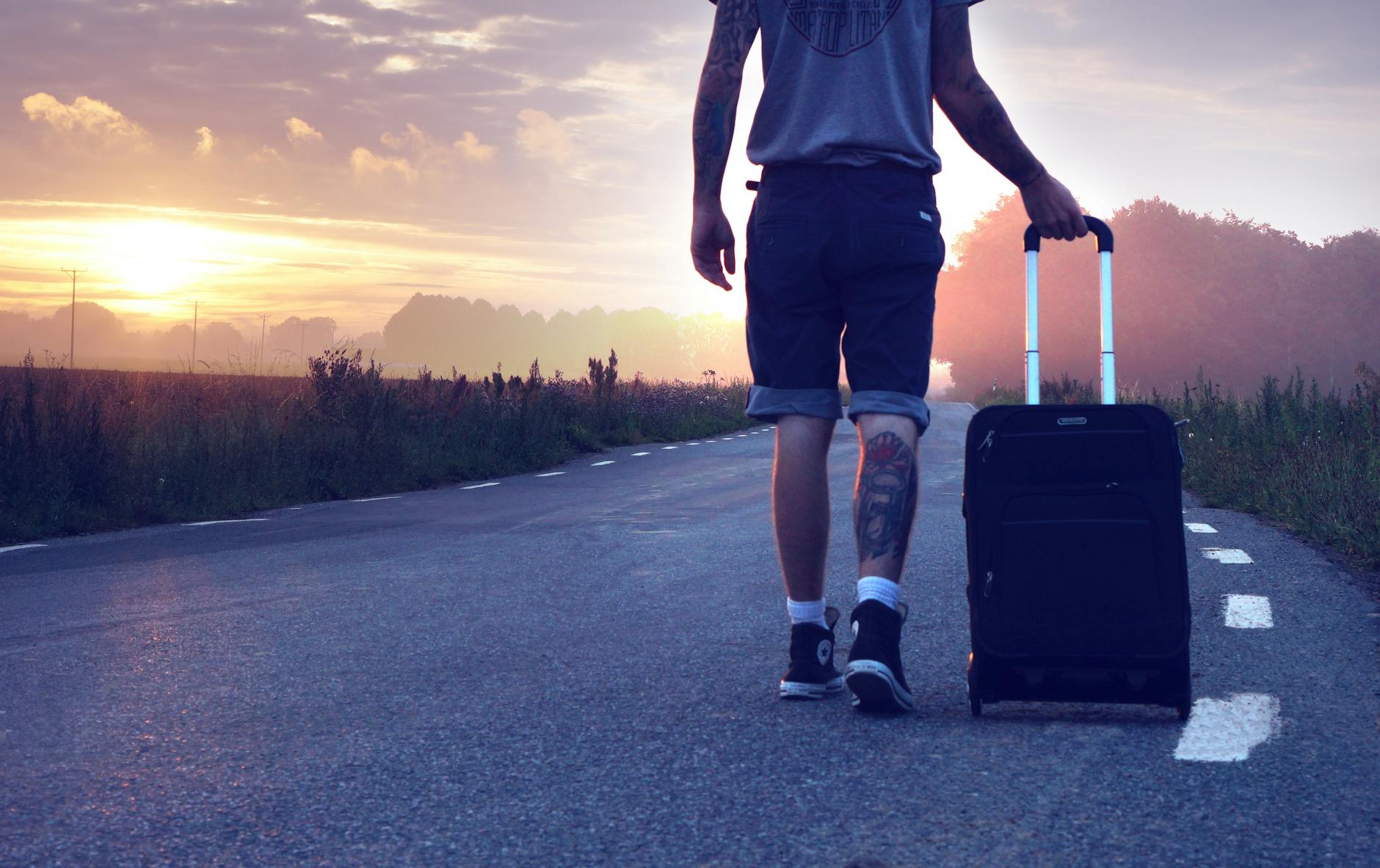 as "tramps." In the United States in the 21st century, the word "tramp" often has a negative connotation. According to Wikipedia, "tramp" has become something of a bad word.
Like "hobo" and "bum," the word "tramp" is considered vulgar in American English usage, having been subsumed in more polite contexts by words such as "homeless person" or "vagrant."
At the 2018 Rubber Tramp Rendezvous, I noticed many people referring to themselves and others as nomads. "Nomad" is a fine word, and I use it myself. Some definitions of the word (like the first one from Merriam-Webster) reference seasonality and a defined territory, but others (like the second one from Merriam-Webster) only refers to roaming about. Other synonyms I like for "rubber tramp" are van dweller, vagabond, traveler, rambler, and wanderer.
As for me, when I renamed my blog, I chose to call myself a rubber tramp because I didn't want to sanitize my situation. While I do like those synonyms that I listed above, I thought "rubber tramp" conveyed some grittiness, conveyed my poverty and hand-to-mouth existence. I don't feel like I have to pretend I'm anything more than I am: a woman with a van (and now a 40+ year old beat up stationary fifth wheel in the desert for winter living), thrift store clothes, and scavenged art supplies.