Today's guest post is by dog lover Adam Conrad of the Shih Tzu Expert website. Adam is going to tell you how to groom your dog on the road. Whether you typically boondock far from professional groomers or you want to save money by grooming your pup yourself, Adam's tips will keep your pooch looking and feeling good wherever the road takes the two of you.
You and your furry dog are on-the-go living a life of adventure. Part of reaping the joys and benefits of that beautiful life means ensuring that your pet is healthy and safe at all times.
One of the easiest ways you can be a good pet owner is to ensure that your dog is healthy with some basic hygiene and grooming tips.  It's easy to forget about some of these basicdaily routines, but doing these things habitually not only keeps your dog healthy and clean, but also makes grooming easier.
When you're regularly brushing its hair and teeth, your dog won't fight these behaviors because they become a part of its routine.  Here are some of the most effective and common ways that you can affordably and easily maintain your dog's grooming needs.
Brush Before Bathing Your Dog
Your dog lives for life on the road and adventure. That means that he or she will require some extra hair care maintenance to undo tangles and knots. It's recommended that dogs be bathed once every three months, but this number will increase if your pet spends time outdoors.
First, start with a good slick, metal pin brush that will really get through the strands of the hair, removing all dead hair and dirt. This is the key to keeping the dog's hair clean. If your dog has tangles, you can use corn starch in the hair to help alleviate the knots quickly and affordably.
Try to keep your dog standing when you brush him, and do it as regularly as you can. Getting him used to this behavior will allow him to become conditioned to all other grooming habits.
Next, set your dog in a few inches of lukewarm water. If you don't have a hose, you can use a pitcher to wet your dog. You'll want to make sure that you're using a high quality shampoo on your furry friend.
Take care not to spray the shampoo into your dog's ears, nose, and eyes. You can protect your dog's ears easily by gently placing cotton balls in the entrance of his ears, so that no excess water or shampoo gets inside. Gently massage the shampoo into the hair all over.
If you're bathing your dog in you're rig's sink or shower, you won't want to clog your drains. Make sure to use a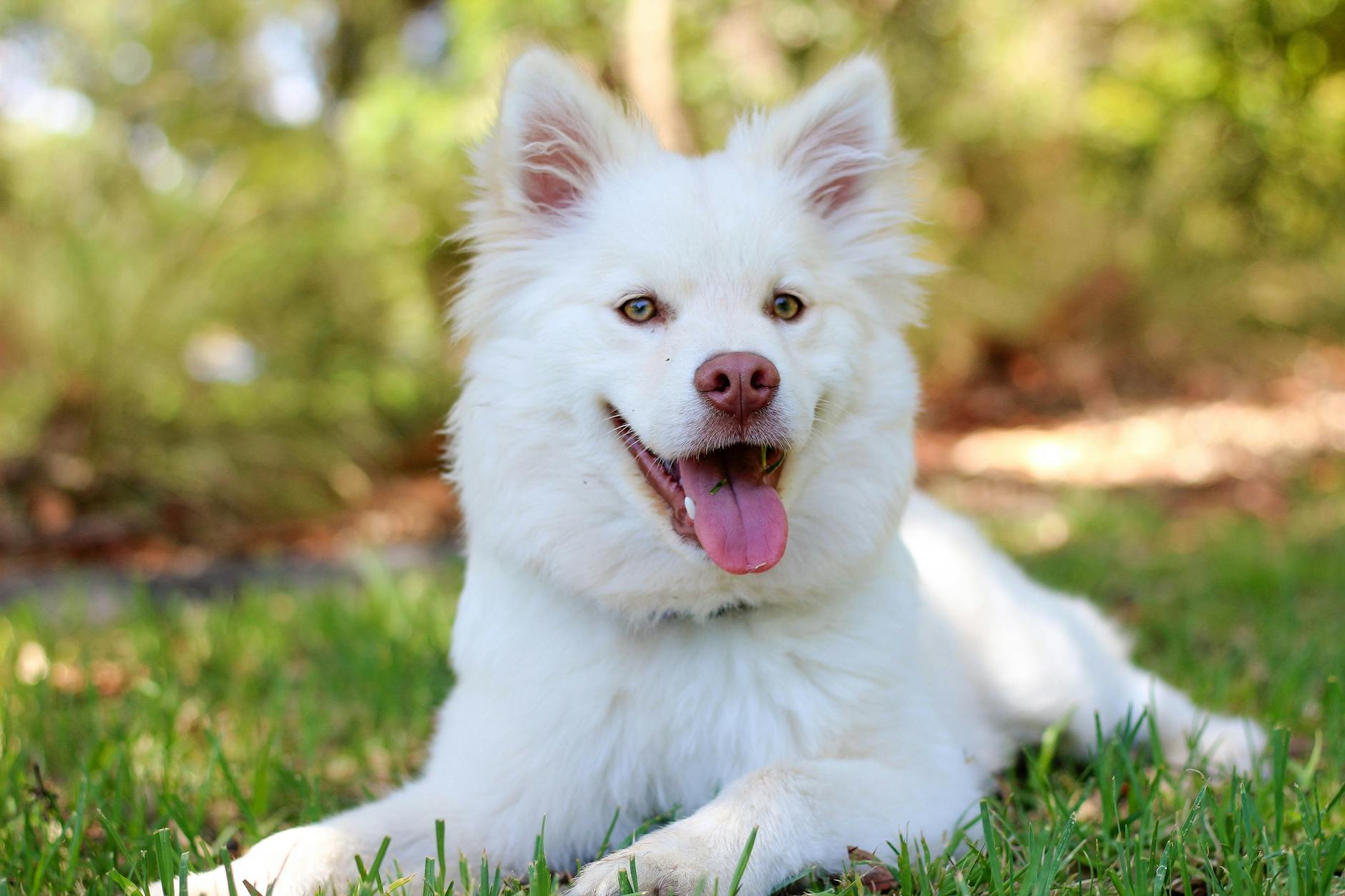 hair plug to protect your drain from clogging.
Minimize and Maintain Shedding

Shedding is a completely normal and healthy part of a dog's life. Depending on the dog's breed, the size of the animal, the time of year, and many other factors, shedding may be more prevalent. One of the easiest ways you can minimize shedding is by brushing your dog's hair regularly. The more your brush, the more dead hair will be removed and caught in the brush and not spread all over your  living space.
Use a plastic bristle brush to break up the knots. You might also consider using a slicker brush to remove loose hairs.
One of the best indicators of a healthy coat is the kind of food your pet is eating. A high-quality food source with a good amount of protein will help your dog's coat stay healthy and minimize shedding.
If your dog is larger and the shedding seems to be unruly at times, you might consider covering your furniture to protect your living space. Vacuuming often is another way to minimize dog hair in your living space. You might also consider picking up a special hair pick-up roller that is made for removing dog hair from furniture and fabric easily.
Safely Cut and Shave Your Dog
After you've freshly brushed and cleaned your dog, you might want to cut its hair. If so, please make sure that your dog is safely standing on a table so that you can easily access all areas of the fur. (For more ideas on where to place your dog for grooming, see the article on the Wag! website on How to Groom a Dog Without a Grooming Table.)
You might invest in grooming shears so that you can most effectively execute the cut.
It's best to begin cutting your animal's hair when it's dry, unlike human hair. You'll want to use the sharp tip of the scissors to trim your dog's body, specifically the more delicate parts like the face and tail.
When trimming the ears, be very careful to have the hand not holding the scissors on the hair being trimmed to ensure that you're never cutting your animal and inflicting pain. You wouldn't want to hurt your best furry friend! Of course, it would be easier and safer to have a friend hold the dog while you're working on the ears. Trimming the hair around the ears is tricky even for professional groomers, who usually use restraints.
If you're looking to shave your dog, make sure to find a quiet and open space where your dog won't get startled. Again, make sure the dog's hair is clean and dry. Keep the blade flat against the skin, starting from the neck and move along the various parts of the dog's body.
Be careful where the skin is thin on your animal, like its thighs and hips. Also, make sure to use a special blade for the dog's face and to check that the blade is not getting too hot or burning your dog's skin.
Trim Those Nails and Protect Those Paws

How can you even tell if your pet needs its nails trimmed? As a general rule, the dog's nails will slightly rub the
ground when he or she moves. If your pet's nails are making louder noises on hard floors or getting caught on carpet, it is time to trim your pet's nails.
Before you even think of using dog clippers or grinding down dog's nails, first try introducing the louder noise that the tool makes. This will help your dog not to get spooked when you're actually cutting.
If your dog has white nails, it will be easier to cut its nails until you get closer to a light pinkish portion of the nail. Dogs with black nails don't have an easily discernible quick, which makes it a bit more challenging to do. If your dog has black nails, try your best to cut slowly until you see a full portion of the nail that is black. If you do accidentally cut into the quick, you can use styptic powder or corn starch to stop any bleeding.
Make sure that you're clipping the nails quickly and with force. If you use dull clippers and move slowly, the nail might not clip cleanly, leaving sharp edges, or it may actually chip and split.
Your dog's paws will require different care in the summer and winter. In warm weather, your dog is probably active and spending a lot of time running on various terrain outdoors. In the winter, your dog might be running on pavement that has been treated with chemicals and salt after snow. You'll want to make sure your dog's paws are cleaned so that he isn't ingesting any of those chemicals; also check to be sure his paws aren't chafing or cracking from the cold weather. Apply coconut oil to dry paws or consider buying an affordable pair of winter booties for your pet. (To help you pick the right winter booties for your active pooch, the American Kennel Club website has an article on the Top 10 Dog Boots for Winter & Cold Weather.)
Since your dog is spending a great deal of time outside and then coming back into your rig's small living space, you'll want to take extra care to clean your dog's paws. Cleaning wipes are critical. Try to make a habit of wiping down your dog's paws after running around outside. Remember that purchasing dog-specific wipes is important, since almost everything you put on your dog will end up in its mouth. Doing this will ensure that your dog isn't ingesting any harmful chemicals or ingredients, and will keep your pet safe, fresh, and clean. (If you need help deciding which wipes to use on your canine companion,  Top Dog Tips website lists the Top 10 Best Dog Wipes for Light Grooming and Your Dog Advisor offers an article on the "Best Dog Wipes.")
There are a plethora of easy-to-find products that are healthy for your dog and help maintain grooming. One of the most important ways to maintain your dog's grooming is by taking care of its coat. A healthy coat is a happy dog!
Fish oil and flaxseed oil are two products that are easy to find, safe for your dog, and help maintain a beautiful coat. These oils are rich in the essential fatty acids that help promote a healthy coat for your dog from the inside out. Another great oil for dogs is salmon oil. You can drizzle these oils on your dog's kibble or on a chew toy for your pup to safely ingest.
Does your dog happen to have a dry, scaly nose or paw pads? Maybe they simply need more water. If your dog is
properly hydrated and this dry, scaly skin is still persistent, try picking up some coconut oil. A little dab rubbed into the scaly nose and paw pads should create moisture and alleviate the dryness.
We've only scratched the surface on some of the most important DIY grooming tips for your vandwelling dog. Remember that proper and regular grooming of your furry friend is one of the most effective ways to keep your animal clean, healthy, and safe. Maintenance is key! That means that the more you keep up with it, the easier it will be. Plus, your dog will get into the habit of regular grooming and not put up a fight to let you brush it, trim its nails, or any other critical grooming technique. Happy grooming!
Adam Conrad is a dad of 5 Shih Tzu pups and the creator of Shih Tzu Expert. His passion for helping people in all aspects of dog care flows through in the coverage he provides about dog health issues like Parvo, CDV (Canine Distemper Virus), pet containment systems, dog grooming tools and techniques, and best food for dogs with specific dietary requirements. In his spare time he is an avid scuba diver and a trail runner. 
Remember, you are responsible for yourself and your dog(s). Neither Blaize Sun nor Adam Conrad are responsible for you or your pup(s). Use common sense depending on the regulations and conditions of your location.
You can read about the real-life dog grooming experiences of part-time vandweller who travels with dogs at DIY Grooming Tips for the Vandwelling Dog.